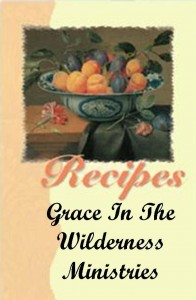 Our Cookbooks are sponsored by the ladies of Blue Ridge View Baptist Church of Pickens, South Carolina in support of Grace In The Wilderness Ministries and include many of their wonderful, favorite recipes. Order your copy today!!
To order The Grace In The Wilderness Cookbook click on the following link and print out the order form.
SEND ORDER FORM AND CHECK TO:
GRACE IN THE WILDERNESS, 139 COMMONS WAY, GREENVILLE, SC 29611
If you have questions or need additional information, please contact Sharon Hawkins at (864) 380-2358.